Can a Registered Agent Open a Bank Account?
It is not uncommon to open a limited liability company in a state where you don't happen to reside. This, along with other tangible reasons, may necessitate the need to have your LLC bank account opened on your behalf by a third party. Can a registered agent open a bank account for your company?
Yes, the situation varies from case to case, but on the whole, it is indeed possible to have your business bank account opened on your behalf by a third party, especially by a registered agent.
To understand how this is possible and how exactly you should go by it, keep reading the points below. We have also dedicated a few sections to other functions of registered agents and how you can use them to your company's advantage.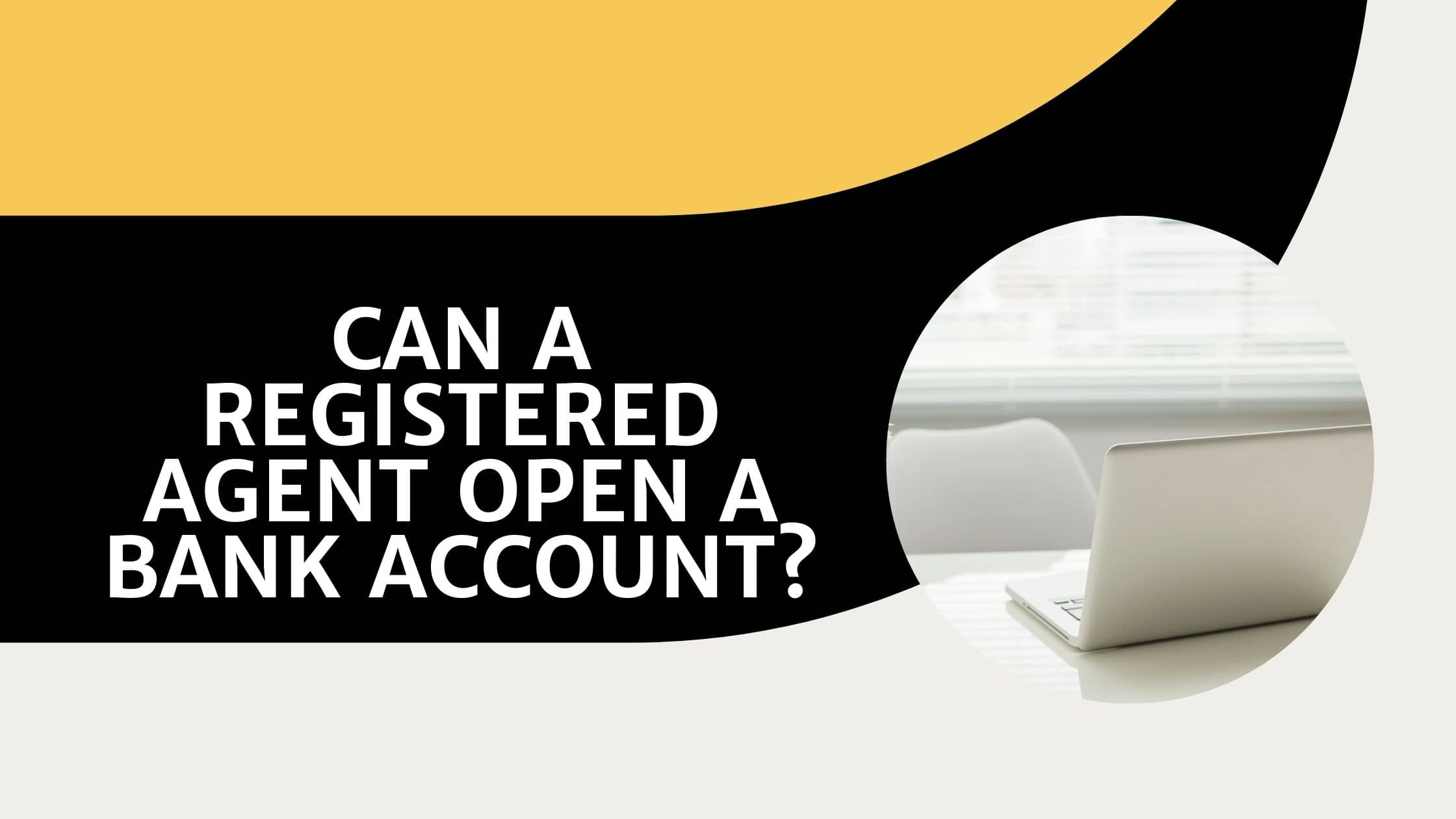 Who are registered agents?
A registered agent is a person (or company, in some cases) that you designate to the state to perform the task of receiving important legal documents and mail on your behalf.
You can think of registered agents as the first point of contact between yourself, your company, and the state. A registered agent can either be a member of your company, or a company that happens to provide registered agent services.
So why are registered agents necessary? Registered agents are necessary because they provide a much-needed point of contact for communication and exchange of information between your limited liability company and the state.
Without a registered agent to mediate interactions, the line of communication between the two parties will not be as direct and straightforward as it is. This may lead to information getting lost or not flowing as freely as it should.
With the presence of a registered agent, however, there is less room for error, oversight, and definitely, no room for excuses when a company fails to comply with specified regulations or does not follow laid-down instructions.
So does this privilege entitle a registered agent to be able to open business accounts on behalf of an LLC? We take a look at this further below.
Can a registered agent open a bank account?
As we've seen above, the major function of a registered agent is to serve as a point of contact for your business with the state. Now does this function extend to banks and banking agencies? Well, no. Not directly.
Does this mean, then, that a registered agent can not interact with a bank on your behalf? Again, no. A registered agent can, eventually, be a liaison between your company and your prospective bank. Before this can happen, though, a few criteria have to be met.
The very first step is having the necessary documents for opening a bank account ready. It is only when you fulfill the conditions for a regular business account opening, that you can then begin the process of authorizing your registered agent to fill your position at the bank.
How to open a bank account with a registered agent
Having gotten all requirements ready, the obvious next step is to show up at the bank and get your account up and running. But since you won't be able to do that, a registered agent would have to do.
Now how do you get a registered agent to authorize a bank account opening on your behalf? That's where the following steps come into play:
Unanimous written consent – The first thing you have to do is provide a unanimous written consent authorizing your registered agent to act on your behalf to the bank. The agent should be given copies of this resolution. The resolution also has to be unanimous in cases where the LLC is operated by a group of managers. In cases where there is a single member manager, an authorization resolution from this member should do.
Arm with required documents – Along with the authorization resolution, your registered agent should also be armed with the required documents, which, as mentioned above, include the articles of organization, operating agreement, and the employer tax identification number.
Call in with bank for other requirements – Finally, thanks to the fact that there are also other requirements that vary depending on the bank, especially when it comes to third-party authorized activities, it is highly advisable that you check-in and confirm with your prospective bank before making your final move.
What are the requirements for opening a business bank account?
For a regular business bank account, the following information and documents must be provided
Articles of Organization – One of the very first requirements is your LLC's articles of organization. This is the document filed with the secretary of state for the official establishment of your LLC.
Federal EIN – Your federal employer identification number is needed for tax purposes. This is one of the most important steps you would have taken immediately upon the establishment of the LLC. If you haven't already, though, it is easy to apply and get one on the IRS website.
Operating Agreement – An LLC operating agreement is a detailed document highlighting the structure, organization, and overall mode of operation of an LLC. Again, this is one of the documents you get immediately after establishing a limited liability company.
Select Account Type – Next requirement for opening a business bank account is to select the exact type of business account you require. Depending on the bank, this can be a bit overwhelming as there are usually a host of options to choose from. You may consult a financial advisor before making a final decision.
Others – Also depending on particular banks, there may be other required documents. This is why it is usually advisable to call your bank first and get all the important information.
Why you should have a business account
The above steps may seem like a hassle to some, but we can assure you it is a hassle that is absolutely worth it. In case you're a skeptic in need of conversion, or just reassurance, below are some of the most important reasons why you should have a business bank account.
Separation of finances and liability – Opening a separate business bank account ensures that there is a much-needed degree of separation between your personal account and your business bank account. The advantages of this itself are numerous, with the most important being the protection it gives you from certain liabilities.
Credibility – Having a separate business bank account also builds more credibility and trust to customers. There is nothing that screams "amateur" more than making use of your personal bank account for business purposes.
Easy accounting – Thanks to the separation of business account from personal, you're able to keep track of your finances better without having to go through the chores of filtering our personal transactions. It also makes the job of your accountant, should you choose to hire one, a lot easier.
Tax and credit benefits – Lastly, with a business bank account, filing taxes becomes easier, and not just this, you may also end up being eligible for certain cuts and returns. By running a well-maintained business account, you may also become eligible for business credits and other financial benefits.
What else can a registered agent do?
Apart from opening bank accounts, the major functions of a registered agent include the following:
Tax forms – As mentioned earlier, it is the job of a registered agent to receive tax forms on your behalf from the state. A designated registered agent is required from the very start while filing your articles of organization.
Legal documents – A registered agent also receives other important legal documents.
Annual report – Some states require consistent updates on your LLC through annual reports, and it is the job of a registered agent to act as correspondence in getting these reports through to the right channels.
Summons – Should the need arise for a Service of Process, in the form of a notice of a lawsuit, for example, it is the job of a registered agent to receive this on your behalf. For those who may not know, Service of Process is a legal term used to describe the act of informing an entity or a person of a pending lawsuit leveled against them or the company.
Registered agent options
Finally, there are about three general options you have when selecting a registered agent. The first is to act as your own registered agent. And while this is indeed accepted by some states, it is not advisable for a number of reasons which include availability, propensity for frequent oversights, the difficulty of getting an address in every state your LLC is located, and so on.
The next two options are going with a friend/member or going with a company that provides registered agent services.
Going with a friend/member is advisable if they happen to keep regular business hours and are going to be available at all times. Going with a company that provides this service, however, is without a doubt the best choice. It doesn't cost a lot, and it will ensure you have efficiency, peace of mind, and flexibility among others.
Back to top